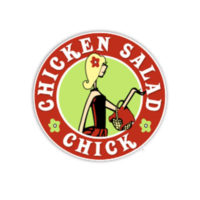 Chicken Salad Chick is a fast casual restaurant famous for their 15 different chicken salads. Their restaurant is the go to place for chicken salad lovers. Chicken Salad Chick started as a simple family business. Stacy Brown, founder of the restaurant, did a lot of experimenting and testing of several chicken salad recipes, and with the help of their neighbors, came up with the recipe for their best-selling chicken salads.
From selling from their house, a restaurant was made possible when they were shut down by the health department because selling food cooked from home was prohibited at that time. This setback had inspired Kevin Brown, co-founder of the Chicken Salad Chick, to continue their plans in turning their business into a restaurant due to the high public demand.
Today, Chicken Salad Chick has 51 branches around Alabama, Georgia, Florida, North and South Carolina, and Tennessee. Chicken Salad Chick also offer catering services letting you serve their home cooked chicken salad to your guests.
Chicken Salad Chick Catering Menu
Item
Price
Famous Chicken Salads
By The Pound
Classic Carol
$10.99
Dixie Chick
$10.99
Jalapeno Holly
$10.99
Barbie-Q
$10.99
Kickin' Kay Lynne
$10.99
Buffalo Barclay
$10.99
Olivia's Old South
$10.99
Luau Lydia
$10.99
Mimi's Mix
$10.99
Fruity Fran
$10.99
Nutty Nana
$10.99
Jazzy Julie
$10.99
Sassy Scotty
$10.99
Fancy Nancy
$10.99
Cranberry Kelli
$10.99
Specials
Original Chick (choice of any sandwich or scoop and 1 side item, pickle spear, & the cookie)
$7.59
Gourmet Chick (choice of any sandwich or scoop and 2 side items, pickle spear & the cookie)
$8.59
Chick Trio (any 3 chicken salads or side items served on a bed of lettuce, accompanied by a pickle spear & wheat crackers)
$8.59
Soup & Sandwich (soup cup of the day & half of any sandwich)
$5.99
Gourmet Soups
Soup
$3.49
Soup
$4.49
Soup
$12.49
Desserts
Cookie of the Day
$0.99
Deli Sandwiches
Turkey Hoagie
$5.49
Roast Beef
$5.49
Virginia Ham
$5.49
Pimento Cheese
$5.49
Side Items
By The Pound
Seasonal Salad
$3.99
Broccoli Salad
$2.79
Broccoli Salad
$7.49
Grape Salad
$2.79
Grape Salad
$7.49
Pasta Salad
$2.79
Pasta Salad
$7.49
Fresh Fruit
$2.79
Fresh Fruit
$7.49
Potato Chips
$1.19
Catering Chicken Salads
Meal Includes 1 Scoop or Sandwich, 2 Sides, Cookie & a Pickle Spear.
Executive Box Lunch
$10.49
Catering Party Platters
Serves 10-12 People per Platter
Chicken Salad Sandwiches
$36.99
Assorted Deli Sandwiches
$36.99
Meat & Cheese
$38.99
Cheese Ball
$19.99
Assorted Fruit
$45.99
Catering Gourmet Soups
Soup
$12.49
Soup
$39.95
Catering Scrumptious Desserts
Assorted Cookies
$9.99
Strawberry Platter
$37.99
Cream Cheese Brownie Platter
$26.99
Catering Beverages
Tea (Sweet or Unsweetened)
$5.99
Lemonade
$5.99
Pros of Chicken Salad Chick Clatering 
The convenience of serving home cooked meals to your guests without cooking it yourself is one of the selling factors of Chicken Salad Chick catering. From their 15 chicken salad options, you will certainly have the perfect choice for your taste.
Chicken Salad Chick lets you choose between a buffet set up where each person gets to choose their own meal preference or boxed lunches which are perfect for quick grubs and for easy clean up.
Be it for small groups or corporate events, Chicken Salad Chick menu makes it easier for you to serve delicious homemade meals for your event needs.
How to Order from Chicken Salad Chick Catering 
Chicken Salad Chick made it easier for you to order from their catering, all you need to do is:
Decide on the set-up you want whether buffet or boxed lunches.
Choose your chicken salad flavor from classic, spicy or sweet. You may also order their sandwiches for those guests who are not fond of chicken salads.
Add their fresh sides. You may choose from potato chips, pasta salad, broccoli salad, grape salad or assorted fruit salad.
Choose the dessert and beverage you want. They have assorted cookies and strawberry platters, while for beverages, they offer sweet or unsweetened teas, lemonade, and bottled water. 
Once you have decided on what to get from Chicken Salad Chick, follow these simple steps to place your order:
First thing to do is find the store near your location. Go to their website chickensaladchick.com and click on Locations.
Enter your city or state on the search field and choose the location from the drop down.
The page will now display several stores available in your location. Choose the store nearest you.
Take note of the store's contact details and address.
Call the store directly to place your order.
Their website allows you to check their catering menu for your reference in choosing your order. Once you have chosen your meal options, you may download their order form and fax it to them.
Chicken Salad Chick offers pick-up and delivery, just remember to call them ahead since most of their restaurants are busy all the time. Take note that a minimum order of $100 is required for deliveries with $25 delivery charge.
Chicken Salad Catering Reviews 
If you are a chicken salad lover, you will love their different options when it comes to flavors. They boast 15 different flavors ranging from their classic flavor to sweet and spicy variants.
Price ranges for serving groups are as follows:
For groups of 4-5, pricing is around $20-30.
For groups of 6-10, pricing is $40-60.
For groups of 12 and above, costs are around $70 and more.
For delivery options, Chicken Salad Chick offers to set up your order on the event depending on the size of your order.
Compared to other catering services, Chicken Salad Chick remains a top choice for affordable home-cooked meals combined with their warm southern hospitality.
 Visit this link for more details
http://www.chickensaladchick.com/store-locator