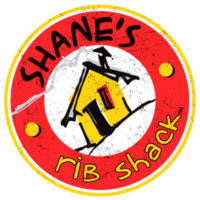 If you are looking for a place to get lunch, dinner or catering for an event, then Shane's Rib Shack is the place to go to. They are popular for their barbeque and the special sauce from Big Dad's recipe.
Shane Thompson built the restaurant on his family's barbeque recipe. In 2002, Shane quit his corporate job and with his wife Stacey started the first restaurant in McDonough, Georgia. Now, Shane's Rib Shack has over 73 branches. It was mentioned by the Fast and Casual Magazine in 2008 Movers and Shakers.
Shane's Rib Shack is known for their BBQ, ribs, chicken and many more. With a food business built on hard work, family and good food Shane's Rib Shack continues to grow. Aside from the casual dining experience at Shane's Rib Shack, they also do corporate, wedding catering. Their menu even includes gluten-free options.
Shanes Catering Menu
| Item | Price |
| --- | --- |
| Livin' Large | |
| Ribs, Chopped Pork & Chicken, Two Side Items, Dessert, Bread & Sauce, Beverages | |
| 2-Bone Ribs | $16.99 |
| 3-Bone Ribs | $17.99 |
| Party Platters | |
| WINGS: Traditional, Smoked or Boneless | $49.99 |
| TENDERS: All White-Meat X-Large | $49.99 |
| RIBS: Award Winning Baby Back | $49.99 |
| Meat & Fixings | |
| Choice of one or two meats chopped pork or chicken, two side items, dessert bread & sauced beverages. | $11.99 |
| Box Lunch | |
| Big Dad Pork Sandwich, Chopped Chicken Sandwich, Chicken Salad Sandwich | |
| With A Side | $8.99 |
| With A Side, Cookie & Drink | $10.49 |
Pros of Shane's Rib Shack Catering
In organizing big events, you have so much to prepare for; the location, rentals, invitations, equipment and entertainment. Tick off one concern from your list when you get Shane's catering service.
There are packaged lunches to choose from. There is also a boxed lunch package with the Big Dad sandwich or BBQ Chicken with chips, tea and cookie.
With Shane's Rib Shack catering not only do you get the slow-cooked baby back ribs and barbeque but also you get gluten-free meals for those with allergies and gluten sensitivity.
How to order from Shane's Rib Shack catering
Ordering from Shane's Rib Shack is quite easy, just go to their website. Then, click the catering inquiry button. From there, you will enter your personal information and also the event details.
Indicate what the delivery address is, what the name of your event is, its time and date, and the number of people. Next, choose what to order. After you check all the information, send your request and wait for confirmation.
Shane's offers a wide variety of options with meat only, boxed lunches, sandwiches, buffet and seated dinner. Aside from gluten-free choices they even have vegetarian options as well.
The ribs and wings are the popular items in Shane's Rib Shack and of course the BBQ sauce. Side dishes are aplenty and you get different options like the coleslaw, fried okra, baked beans, green beans, and potato salad.
Just make sure to order ahead of time when getting a large group order. This will allow enough time to prepare your order and make sure that you are getting what you need.
Shane's Rib Shack Catering Reviews
Shane's Rib Shack offers not only great food but also reliability of service, attention to detail, dedication and trustworthiness. They understand that every event is special and offer customization of orders.
They have different catering packages. First one is an option of one meat, either pork or chicken BBQ with two side items. They also offer a two meat option and another with ribs and either pork or chicken BBQ.
Shane's Rib Shack offers a competitive price for similar restaurants offering ribs and BBQ; taking into consideration the serving size.
For a small group of 4 people getting rib plates including side dishes and drinks would range from $60 to $80. For a mid-sized group of 6 getting either rib plates or pork BBQ costs around $95 to $115.
You can have your order picked up or delivered. The staff at Shane's Rib Shack will assist you with your catering needs.
 Visit this link for more details
http://www.shanesribshack.com/catering/inquiry/