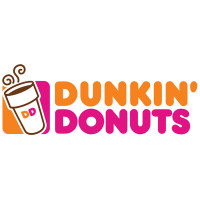 William Rosenberg observed that people loved dunking their donuts in their coffee. He was already making a variety of donuts and sought to produce the perfect match for it: good quality coffee. That was how Dunkin' Donuts started.
With over 65 years in the business, Dunkin' Donuts has delighted customers with the finest quality coffeefull of flavor, whether plain black, latte or cappuccino. The menu has grown from donuts and coffee to providing sandwiches and pastries as well.
People love the great combination of scrumptious donuts and a great cup of coffee.That is why Dunkin' Donuts now serve 5 million guests a day in the 11,000 restaurants from 33 countries all over the world. Dunkin' Donuts catering is now available to bring you the perfect combination everyone loves.
Dunkin Donuts Catering Menu
| Item | Price |
| --- | --- |
| Beverages | |
| Box O' Joe (10 Small Cups) | $13.99 |
| Box O'Joe Hot Chocolate (10 Small Cups) | $13.99 |
| 1/2 Cambro of Coffee (30 cups of coffee) | $40.00 |
| Full Cambro of Coffee (60 cups of coffee) | $85.00 |
| Our Dunkin' Donuts Assorted Flavors: | |
| Glazed, Chocolate Frosted, Strawberry Frosted, Vanilla Frosted, Old Fashioned, Boston Creme, Glazed Chocolate Cake, Jelly, Cinnamon, Powdered Sugar, Blueberry Cake | |
| 1/2 Dozen | $5.49 |
| Dozen | $8.99 |
| Our Munchkin Donut Hole Assorted Flavors: | |
| Glazed, Glazed Chocolate, Jelly, Powdered Sugar, Cinnamon, Blueberry Glaze | |
| 25-ct. Munchkins | $5.49 |
| 50-ct. Munchkins | $7.99 |
| Freshly Baked Bagels | |
| Plain, Cinnamon Raisin, Sesame, Everything, Poppyseed, Multigrain, Onion, Wheat | |
| 1/2 Dozen | $5.99 |
| Dozen | $11.99 |
| 8oz. Cream Cheese Spread (Spread Flavors: Plain, Vegetable, Onion, Blueberry, Pumpkin) | $2.09 |
| Muffins | |
| Blueberry, Reduced Fat Blueberry, Chocolate Chip, Coffee Cake, Corn, Honey Bran Raisin | |
| 4-ct. Muffins | $7.49 |
| 1/2 Dozen Muffins | $10.99 |
| Dozen Muffins | $21.99 |
Pros of Dunkin' Donuts Catering
Bring the delicious baked goods and great tasting coffee with you wherever you go with the Dunkin' Donuts catering.
Dunkin' Donuts catering is here to serve you day and night, for your cravings. If you need food for an event, delight everyone with the great tasting cup of coffee and the donuts to dunk in it.
Choose from the wide variety of pastries, donuts and sandwiches from their menu. It will surely hit the spot – that perfect pairing of rich and smooth tasting coffee and signature tasting donuts.
How to Order from Dunkin' Donuts Catering
Do you have an event or gathering? Get Dunkin Donuts to supply your food and coffee.Delightevery one with the different flavors of donuts, delicious pastries and the rich and smooth tasting coffee.
It is easy to order from Dunkin' Donuts.Just follow these simple steps:
Go to the Dunkin' Donuts website nearest your location
Choose what to order from the menu, add it to your tray
Check out and fill out your delivery information
Wait for the confirmation of your order
Some branches have a minimum order requirement and advanced ordering of 24 hours. Delivery options are available with a fee.
You can pick up your orders during store hours for that particular branch you ordered from.Some stores are open 24 hours.
For any inquiries about catering and delivery, a Dunkin' Donuts catering professional is ready to assist you.
Dunkin' Donuts Catering Reviews
Dunkin' Donuts offers a wide variety of food. The well-loved donut flavors are in the box of dozen. They also have pastries like bagels and muffins. If you want coffee, they have black, latte or cappuccino.
A group of ten people getting coffee, a dozen donuts and pastries will cost around $30. For a bigger group of 15 people, getting coffee, donuts and pastrieswill cost around $40, while a gathering of 20 or more peoplegetting donuts, muffins, pastries and coffee willcost around $70.
Ask your Dunkin' Donuts catering professional for their combos if you want to get the best deals. With the variety of food you are getting and the guarantee that it will satisfy your cravings, the price is surely competitive with other places with similar food.
Pick-up and delivery options are available for you depending on your needs. Dunkin' Donuts' staff is happy to help you with your order.
Visit this link for more details