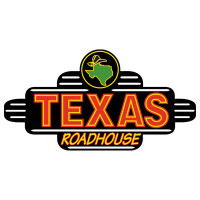 Kent Taylor wanted to open a restaurant where everyone could come and enjoy a meal with their family, so in 1993 he opened the first Texas Roadhouse restaurant in Clarksville, Indiana.
Now, Texas Roadhouse has over 420 branches in 48 states and 4 branches in Dubai and Kuwait. Texas Roadhouse is known for their steaks that are hand-cut, ribs so tender they fall off the bone, freshly made side dishes and baked breads. These are all served in healthy portions so you get more value for your money.
If you need catering for banquets, birthdays, holiday celebrations, and business meetings, Texas Roadhouse will provide you with great food and excellent service. Their signature dinner selection of steaks, legendary chicken and famous side dishes are guaranteed fresh because each Texas Roadhouse has a resident butcher and baker to cut each steak by hand and bake breads every day from scratch.
Texas Roadhouse Catering Menu
| Item | Price |
| --- | --- |
| Oven Roasted Sirloin (6oz.) | $10.00/person |
| Oven Roasted Sirloin (8oz.) | $12.00/person |
| Prime Rib & Chicken Combo (8oz. Prime Rib & 4oz. Chicken) | $15.00/person |
| Chicken Breast (Choice of BBQ Sauce or Cream Gravy) | $10.00/person |
| Pulled Pork & Chicken Combo (6oz.) | $10.00/person |
| Pulled Pork & Chicken Combo (8oz.) | $12.00/person |
| Rib & Chicken Combo (6oz.) | $12.00/person |
| Rib & Chicken Combo (8oz.) | $14.00/person |
| Ribeye Steak (12oz.) | $13.00/person |
| Ribeye Steak (14oz.) | $16.00/person |
| Custom Orders | |
| We will be happy to work out a custom menu that suits your needs for any occasion | |
| Kid's Items | |
| Hot Dogs | price varies |
| Corn Dogs | price varies |
| Mac & Cheese | price varies |
| Pulled Pork Sliders | price varies |
Pros of Texas Roadhouse Catering
Texas Roadhouse offers their restaurant if you need a location for an event. This will provide a great atmosphere for your business functions or parties.
Their restaurant hours vary with each location, so be sure to contact the nearest branch for your specific catering needs. You can have your catering arrangements with the management.
People love the great food made from fresh ingredients and the great service provided to satisfy hearty cravings.
How to order from Texas Roadhouse catering
Texas Roadhouse offers different arrangements for their catering service depending on your needs. You can conduct your event at their restaurant or you can avail of their delivery service to your preferredlocation, either wayyou get the best value for you money and get great food in generous servings.
Ordering from Texas Roadhouse is easy, just follow these steps:
Go to their website
Find a branch located nearest you
Contact the branch with your order
Arrange for the delivery or pick up of your order
Since all the food is made fresh, order ahead of time to give ample time for preparation.
The menu offers a wide variety of dishes from steaks, to ribs, chicken, fish, sides, and also burgers. If you have kids with you, there's no problem, since they offer kids meals with hot dogs, chicken, steak bites, mini-cheeseburgers, and ribs suited for their little tummies.
Texas Roadhouse sure doesn't skimp out even with dessert. They have Granny's classic apple pie, strawberry cheesecake and brownies.
Texas Roadhouse Catering Reviews
Texas Roadhouse offers their catering prices by person but you can always get customized package orders. They are very accommodating and will get you the best deal for your money.
For an estimate of pricing,if you have a group of 5 people getting steaks with sides and drinks, it will costaround $80. A bigger group of ten people getting steaks or chicken dishes all with side dishes and drinks will cost around $140. A feast for 25 people, with party pans of BBQ ribs and a couple of side dishes with drinks and dessert will costaround $240.
Steaks and ribs are not the only items on the menu to give you a legendary experience; they also have salads, salmon, catfish and shrimp. If you are sensitive to gluten, they also have options that are friendly to your condition.
When you get catering from Texas Roadhouse, you can be sure you will be satisfied with the food and service. Each serving is generous and you get the best value you paid for.
Visit this link for more details
https://www.texasroadhouse.com/