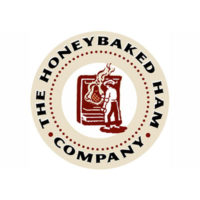 HoneyBaked ham is a family owned food institution popular for its trademark sweet, crunchy glazed bone-in smoked ham.
Harry J. Hoenselaar, founder of HoneyBaked Ham, opened their first store in Michigan in the year 1957. He formulated the perfect glaze for their ham and patented the unique way of slicing it in a spiral making it easy to serve in platters. HoneyBaked ham has evolved from just one simple store to a flourishing business with 400+ branches nationwide.
The company is still handled by the Hoenselaars with the promise of delivering the same service their father had provided. Aside from their mouth-watering smoked hams, HoneyBaked had added a variety of food options including boxed lunches and catering platters making them a great choice for catering services.
Honey Baked Ham Catering Menu
Item
Prices
SIGNATURE SANDWICH
Comes with a pickle ,chips, and a cookie or brownie
Ham Classic
$8.29
Turkey Classic
$8.29
Turkey Bacon Ranch
$8.29
Tavern Club
$8.29
Ham Salad
$8.29
Smoked Turkey Salad
$8.29
Chicken Salad
$8.29
SPECIALTY SANDWICH
Comes with a pickle ,chips, and a cookie or brownie
BBQ Smoked Stacker
$8.49
Ham & Turkey Pesto
$8.49
Ham & Turkey Bella
$8.49
Roast Beef & Cheddar
$8.49
Mediterranean Veggie
$8.49
SALAD
Comes with a pickle ,chips, and a cookie or brownie
Chef Salad
$8.49
Cobb Salad
$8.49
Turkey Caesar
$8.49
BUFFETS
Buffet Trays
VIP Buffet
Your choice of HoneyBaked meats, served with sliced
cheeses, lettuce, tomatoes, condiments, fresh bread assortment,two bowls of Deli Sides and cookies for dessert
$8.29 /person
Supreme Sandwich Tray
An assortment of our most popular sandwiches
$7.29/person
Signature Meat Tray
Your choice of our signature meats:Honey Baked Ham®, Smoked or Roasted Turkey Breast and Roast Beef
$5.29/person
Sandwich Builder Buffet
Signature Meat Tray plus sliced cheeses, lettuce, tomatoes and breads
$6.99/person
Fresh Veggie Tray
Crisp fresh vegetables with ranch dressing for dipping; serves 8-12
$39.99
Fresh Fruit Tray
Fresh fruit beautifully arranged on a serving
tray; serves 8-12
$39.99
Buffet Salads (Serves 4-6)
Chef Salad
Ham, Turkey, Swiss and cheddar cheese,tomatoes and fresh greens
$29.99
Cobb Salad
Ham, Turkey, Bacon, egg, Swiss and cheddar
cheese, tomatoes and fresh greens
$29.99
Turkey Caesar
Smoked or Roasted Turkey Breast on crisp romaine, with Parmesan cheese and croutons
$29.99
Garden Salad
Fresh vegetables and crisp lettuce
$24.99
Sweet Treats
Cookie Temptation Tray
2 dozen
$23.99
Brownie Indulgence Tray
1 dozen
$23.99
Brownie & Cookie Tray
Serves 14-18
$23.99
Pros of HoneyBaked ham catering
Entertaining guests but you do not have time to cook? HoneyBaked Ham made it possible for you to serve their signature delicious meals ready to wow your guests.
Their catering services include a complete buffet set up allowing you to have assorted sandwiches, fresh deli sides, chips, cookies and brownies.
If you are organizing events for your company's party, their boxed lunch will be a great choice too.
How to order from HoneyBaked ham catering
Availing of HoneyBaked ham catering services is made easy with their website. To order from HoneyBaked ham catering, the first thing to do is to locate the store nearest you.
Go to their website honeybaked.com.
Select the Lunch&Catering tab.
You will be redirected to a different page, click on Select a store for more info.
Enter your address or zip code on the search field and hit search.
Several stores will be visible on the map. Choose the one nearest you.
Once you have found the website of the store, you can either place the order right away by clicking on the catering tab, or call them directly with the number provided on the site if you prefer to order over the phone. Their page allows you to download their menu so you can plan on what you want to order before calling them.
To place your order on the store's website:
Select a package that will suit your event. You may either choose their boxed lunch, platters, trays, or buffet salads.
Provide the order details. You will be asked to enter the quantity required, select the product you want to be included in your order and choose add-ons to your meals.
Lastly, you will be asked to review your order. Choose if you want to pick it up from their store or have it delivered to you. Note that a minimum order of $50.00 is required and a fee of at least $15 is included for deliveries. Enter the required information including your mode of payment then submit. You will receive a confirmation email once your order has been processed.
As much as possible, place your order at least a day before the event. Make sure to review your order well and make necessary changes before submitting the form. In case of order changes or cancellation, you will have to call the store directly. Remember to call them at least 3 hours before the set pick up or delivery time.
HoneyBaked Catering Reviews
HoneyBaked ham catering is loved not only for their signature bone-in hams but also for their vast meal options.
In their VIP package for instance, you have the freedom to make your own sandwich with their assorted breads, the meat of your choice be it their signature ham, roast beef, or smoked turkey, fresh lettuce and tomatoes, and different kinds of cheese. Added with their excellent side salads, vegetable and fruit platters, and assorted cookies and brownies, there's no wonder this package is one of the top choices in their menu.
Estimated pricing:
For small groups of 4-6, price for catering is around $330-500.
For groups of 8-15, estimated cost will be around $600-1,250.
For large groups of 20 and above, estimated price will be $1,600 and more.
HoneyBaked ham catering has a good reputation when it comes to deliveries of their product. Pick-up and delivery are always on time and you will be notified for any delays.
HoneyBaked ham catering remains to be on top when it comes to delivery of quality food for a reasonable price.
Visit this link for more details
http://www.honeybaked.com/catering.asp