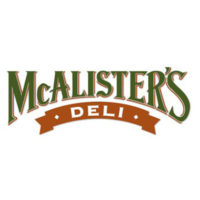 McAlister's Deli is a fast-casual restaurant that specializes in sandwiches, salads, soups, and teas. Their menu items are typically seen in an English afternoon tea–the difference is that they are located in 398 different locations in 26 states in the US.
Founded in 1939, McAlister's Deli has been awarded numerous recognitions from reputable award-giving QSR bodies, including the top kid-friendly fast-casual chain and "Best Franchise Deals." This recognition speaks a lot about the quality of both their food and service. Thus, it is not a wonder that there are more than 300 franchises of the restaurant today.
McAlister's Deli boasts about three things that distinguish them from the other food chains (aside from them being one of the most recognized among them):
McAlister's Famous Sweet Tea. Refilled for free every time customers dine in, their trademark tea is made up of high-quality black leaves steeped for a long time then served cold and with lemon wedges for garnish.
Handcrafted food. McAlister's Deli boasts about having fresh and good quality ingredients and their generous servings of sandwiches, spuds, salads, and soups. Also, they have a "Choose Two" option for customers who cannot really choose between their delicious array of dishes.
Genuine Hospitality. This restaurant not only brags about their food items–they have friendly services as well. According to their website, they label themselves "givers," and it can be seen in their "free refills, big portions, and big smiles." With this, it is not a wonder that customers keep coming back.
With these features, McAlister's Deli catering got their way into the people's hearts…and stomachs.
Mcalister's Deli Catering Menu
| Item | Price |
| --- | --- |
| Box Lunches | |
| McAlister's Club | $7.35 |
| The Memphian | $6.95 |
| Chicken Salad Croissant | $7.35 |
| The Veggie | $5.75 |
| Roast Beef Supreme | $6.95 |
| Entree Salads | |
| McAlister's Chef Salad | $6.49 |
| Grilled Chicken Caesar Salad | $6.79 |
| Chicken Salad" Salad | $6.79 |
| The "Chicken Grill" Salad | $6.79 |
| Dessert Trays | |
| Fresh-Baked Cookie Tray (serves 10-12) | $16.95 |
| Chocolate Brownie Tray (serves 10-12) | $25.95 |
| Variety Tray (serves 10-12) | $19.50 |
| Deli Trays | |
| Deli Tray (serves 8-10) | $55.00 |
| Deli Tray (serves 16-20) | $110.00 |
| Club Sandwich Tray (serves 8-10) | $65.60 |
| Club Sandwich Tray (serves 16-20) | $131.00 |
| Wrap Tray (serves 8-10) | $65.60 |
| Wrap Tray (serves 16-20) | $131.00 |
| Fresh Vegetable Tray (serves 8-10) | $63.50 |
| Fresh Vegetable Tray (serves 16-20) | $127.00 |
| Assorted Sandwich Tray (serves 8-10) | $59.00 |
| Assorted Sandwich Tray (serves 16-20) | $118.00 |
| Beverages | |
| The Works! | $7.00 |
| By The Gallon (Tea or Lemonade) | $6.00 |
| Canned Drinks (Assorted and 6-pack) | $7.50 |
| Bottle Water | $1.75/bottle |
Pros of McAlister's Deli catering
McAlister's Deli catering embraces online orders for their catering and deliveries as well. Of course, this provides convenience for their patrons and potential customers. They can be reached through their hotline 828-262-2213. They have the motto of letting their clients enjoy their own parties without having to worry about their food service–McAlister's will do the worrying and the preparing for them.
People love their restaurant because they give the perfect combination of good quality and fast transactions. Patrons can enjoy their food both at the comforts of their own homes or at the restaurant place with all the good ambiance and free refills of McAlister's Sweet Tea. Also, their website has a "Nutrition" page for those who want to stick to their diet but still willing to indulge to one of the finest foods in town. In this page, customers can see the Calories, carbohydrates, protein, and fat from each food item and compute combinations of food items that they ordered. Aside from this, they have healthier options for vegetarians, vegans, and gluten-sensitive alike, and just like the usual food items in their menu, the Nutrition page also features their Calorie count and nutrients. Some branches also offer unique food items based on local ingredients.
How to order from McAlister's Deli catering
While McAlister's Deli catering menu offers a variety of choices of sandwiches, soups, spuds, and salads, they have four featured items in their menu: black cherry and ham sandwich, black cherry spinach salad, pure cane sugar lemonade, and The Italian. These dishes are made with the finest ingredients and are made from scratch. As said earlier, these and the other dishes in their menu can be obtained through their delivery hotline.
As for the food orders for catering, this can be done, again, using their hotline. Orders should be made at least two weeks before the event to ensure that the best service and preparations are done well and provided for, up to at most 24 hours before. Cancellations should be done at most 72 hours before; otherwise, 50% of the whole catering services will be paid by the client. This penalty, however, does not apply for cancellations due to natural causes like typhoons and/or hurricanes. But regardless, McAlister Deli will deliver the best services they can give. They accept any form of payment, like cash or credit card.
McAlister's Deli Catering Reviews
As said earlier, they offer various breakfast and lunch trays that can usually serve up to 8 people, called the "Regular Serving," while their "Large Serves" can accommodate up to 20 people. Packages include:
Deli Trays, with McAlister's Club Tray, Assorted Club Tray, and Signature Sandwich Tray as options, with prices ranging from 70 dollars (Regular) to 135 dollars (Large);
Entree Salads, choosing from Grilled Chicken Salad, Savannah Chopped Salad, McAlister's Chef, Garden Salad, and with a choice of dressing from McAlister's Honey Mustard™, Ranch, Lite Ranch, Caesar, Thousand Island, Olive Oil & Balsamic Vinaigrette, Bleu Cheese, Sherry Shallot, Chipotle Ranch and Fat-Free Chipotle Peach, all at the price ranging from 4 dollars to 6 dollars per person;
Spud Bar, consisting of Spud Max Bar, Spud Ole Bar, and Bacon and Cheese Spud Bar as choices, costing 4 dollars to 5.50 dollars per person; and
Boxed Lunches, with Club Sandwich Box, Harvest Chicken Salad Croissant Box, The Memphian Box, The Veggie Sandwich Box, Traditional Sandwich Box, Tuna Salad Croissant Box, and Wrap Box as options, ranging prices at 6-8 dollars per person,
The prices include the utensils, plates, napkins, and free condiments. McAlister's Deli Catering also delivers desserts, beverages, and sides choices aside from the dishes above.
Catering requests can be done 24 hours before the event. But the earlier, the better, because McAlister's Deli wants to give the best service possible. While they are a bit more expensive than other catering services with the same range of dishes served, patrons prefer thinking that the extra payment is for the friendly and efficient service the company provides to its clients–they really uphold their principle of "genuine hospitality." Some even say that they are the higher end of Panera, another fast-casual American-themed restaurant.
Visit this link for more details
https://www.mcalistersdeli.com/catering/