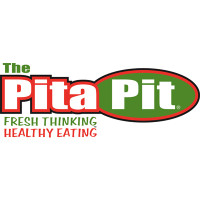 Pita Pit is a restaurant specializing in serving pita sandwiches. The restaurant has two headquarters based in Canada and the US.
The restaurant was founded by John Sotiriadis and Nelson Lang in Ontario, Canada in the year 1995. The restaurant can be found in over 500 locations across Canada, US, France, UK, Brazil and many more countries. It offers a variety of pita sandwiches that includes meat pitas, veggie pitas and breakfast pitas. The difference of each type of pita is the main ingredient. Additional toppings and sauces are also available.
The restaurant also extends their catering services to special events. Small or large events like parties, weddings, family reunions, or company meetings, the restaurant will bring their excellent service to the doorstep. Aside from pita sandwiches, people can also order salads and other chips available in the menu. The restaurant also offers special express lunch boxes.
Pita Pit Catering Menu
| Item | Price |
| --- | --- |
| Pita Platters For Any Occasion (serves 10) | |
| Pete's Signature Platter | $8.00/person |
| Meat Lover's Platter | $8.00/person |
| Classic Mixed Platter | $7.50/person |
| Deli Platter | $8.00/person |
| Veggie Lover's Platter | $6.50/person |
| We Offer More Thank Just Pitas: (serves 10) | |
| Salad Trays | $3.50/person |
| Chips Or Cookies | $1.50/person |
| Pop (cans) | $1.49/person |
| Pop (bottles) | $2.29/person |
Pros Of Pita Pit Catering
Customers can customize their own pita pit sandwich. Customers can choose from the main ingredients like chicken souvlaki, falafel, and cheese steak mixed with cheese of choice.
Customers can also choose their own sauce to pair or dip with the pita sandwich. Alongside, customers can choose a salad or chip to go with the sandwich.
Customers can actually mix and match the ingredients available in the restaurant and style their own pita sandwich. There are no rules as customers are given freedom to use their own creativity in mixing ingredients.
How To Order From Pita Pit Catering
To order for groups or for events, customers can place their orders online or through direct calls or visit to the nearest location. Here are some steps to follow:
First, customers need to choose from the list of products for their orders. Menu is available on their website. Customer can choose themed platters or salads or make your own pita.
Second, customers will choose the extras. They are usually drinks, chips, cookies, and sweets. Extras vary in different locations.
Third, choose the nearest onsite location of the restaurant. Customers can call the location for confirmation of orders or wait for the response of the staff if orders are made online.
Ideally, for small events, orders should be placed 24 hours prior to the event while orders should be placed 2-3 days prior for large events. Cash payments and credit card payments are accepted.
Pita Pit Catering Reviews
Customers are given options to pick up or have their orders delivered to their doorstep. For pick up orders, customers will be informed of the time of pick up by the staff of the nearest location.
For deliveries, complete address should be specified while delivery fees depend on the customer's location. Every order comes with plates, platter trays, forks, and napkins. For events with more than 50 guests, customers may contact the restaurant for special arrangements.
Prices of the products of the restaurant are priced a little higher than some fast food chains. But for other pita sandwiches food chain, prices are competitive and similar.
Prices for pita sandwiches are fixed per person. For group orders, sandwiches are at the same price multiplied by the number of guests. But for platter orders, prices vary depending on the number of guests and the style of pita.
Pita prices are considered high end on the market but the quality and service of the restaurant is excellent. All ingredients used are fresh, clean, and special. Pita pit restaurant definitely gives its customers a unique pita experience.
Visit this link for more details