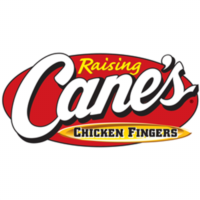 Raising Cane's is a fast food restaurant specializing in quality Chicken Fingers. Founder Todd Graves opened the restaurant in Louisiana on 1996, serving a limited menu of Chicken Finger meals. As of November 2016, the restaurant has 300 locations across the United States.
Todd Graves dreamed of his own restaurant in the early 90s. He and his initial partner Craig Silvey, raised money by working different jobs. When they got enough money, they acquired an SBA Bank loan to supplement it and opened their first Raising Cane's restaurant. Quality chicken fingers is the only meal in the restaurant, which is made through a specialized system. They also serve sides such as drinks, coleslaw, fries, drinks and their signature Cane Sauce. The sauce is a trade secret. It comes pre-packaged and pre-mixed to each location.
The offbeat managerial style and fun culture is part of the success of Cane's. It is based from the vision of the founder: A restaurant where people are served with good food by a friendly staff, in a clean and safe environment. They also give back to the community in return for supporting the growth of the restaurant. A strong sense of community is also part of their mission. They sponsor fundraisers and host special events. They have six advocacies that they support: promoting active lifestyles, enhancing education, feeding the hungry, pet welfare, business development entrepreneurship, and everything else. 
Canes Catering Menu
Item
Price
COMBOS
The Box Combo (4 Chicken Fingers, Fries, Coleslaw, Cane's Sauce, Texas Toast & Regular Drink - 22 oz.)
$6.98
The 3 Finger Combo (3 Chicken Fingers, Fries, Cane's Sauce, Texas Toast & Regular Drink - 22 oz.)
$6.38
The Caniac Combo (6 Chicken Fingers, Fries, Coleslaw, 2 Cane's Sauces, Texas Toast & Large Drink - 32 oz.)
$9.98
The Sandwich Combo (3 Chicken Fingers, Cane's Sauce, Lettuce, Kaiser Roll, Fries & Regular Drink - 22 oz.)
$5.98
The Kids Combo (2 Chicken Fingers, Fries, Cane's Sauce, Kid's Drink - 12 oz. & Activity)
$4.58
EXTRAS
Chicken Finger
$1.09
Cane's Sauce
$0.29
Crinkle-Cut Fries
$1.49
Texas Toast
$0.69
Coleslaw
$0.69
DRINKS
Fountain Drink Kids (12 oz.)
$0.99
Fountain Drink Regular (22 oz.)
$1.59
Fountain Drink Large (32 oz.)
$1.79
Sweet / Unsweet Tea Kids (12 oz.)
$0.99
Sweet / Unsweet Tea Regular (22 oz.)
$1.59
Sweet / Unsweet Tea Large (32 oz.)
$1.79
Sweet / Unsweet Tea 1 Gallon
$4.99
Lemonade Kids (12 oz.)
$0.99
Lemonade Regular (22 oz.)
$1.84
Lemonade Large (32 oz.)
$2.09
Lemonade 1 Gallon
$8.99
TAILGATES
Included Cane's Sauce
Chicken Fingers (25 Pc.)
$27.49
Chicken Fingers (50 Pc.)
$48.99
Chicken Fingers (75 Pc.)
$69.99
Chicken Fingers (100 Pc.)
$89.99
Each Additional Chicken Fingers (100 Pc.)
$84.99
CANE'S GEAR
Logo Hats/Visors
$9.99
Short Sleeve T-Shirts
$9.99
Long Sleeve T-Shirts
$11.99
Pros of Canes Catering 
Getting food from Cane's is a great choice for your next event. It is always fresh, and the food tastes amazing. The chicken tenders are crispy & warm with large servings. You will surely get your money's worth from them.
Aside from food, the service is also good. The staff is friendly to the customers, and always serve the food on a reasonable time. You would not hesitate to order food from them. 
How to Order from Canes Catering 
Cane's does not offer catering, but they do accept bulk orders ahead of time.
To order from Canes:
Look for your local restaurant using the Restaurant Locator on Cane's website.
Find the address, and their location's phone number.
Contact the restaurant location through the following:
Drive to their location
Call the restaurant using the phone number from the website
use the contact form available on the website
Order and get your food delivered via 3rd party applications or websites, such as DoorDash or OrderUp.
Give them ample time to prepare your order. Make sure to contact them at least 24-48 hours to give them time to prepare your order. Talk to the restaurant about the pick-up time of your order, as they do not offer delivery. Cane's restaurant has been more or less consistent with the quality of the food and their service, so you should be satisfied from ordering from them. 
Canes Catering Reviews 
If you plan to order from Cane's for your next occasion, you have a variety of choices. Their best seller is the Box combo, which consists of 4 Chicken fingers, Coleslaw, Texas Toast, 1 Cane's Sauce, and a Drink. This combo costs between 6-9 dollars per box. The prices vary depending on the state.
Other combos available are the 3 Finger Combo, which is 3 Chicken Fingers with sides of Crinkle Cut Fries, Texas Toast, and a Drink. There is also the Caniac Combo with 6 Chicken Fingers, and a Sandwich Combo, with 3 Chicken Fingers, Lettuce, and the signature Cane sauce on a Kaiser Roll. If you are hosting kid's parties, you may choose to order the Kid's Combo, it includes 2 Chicken Fingers and an Activity to keep them entertained.
For bulk orders, it is a good idea to order from their Tailgates Menu, which is a large pan of Chicken Fingers ranging from 25-100 pieces, with Cane's Sauce. An order of Tailgates costs anywhere between 30 to 90 dollars, depending on how many pieces you order. For drinks, they also have the "The Jug" which is 1 gallon of either Tea or Lemonade. The gallon costs anywhere between 5-10 dollars per jug.
Cane's does not offer delivery. However, third party sites host deliveries for Raising Canes depending on the state you live. These sites may have a minimum number of items required before delivery, so make sure to order in bulk to get the most out of your money. They may also charge additional fees for delivery and transaction.
Raising Cane's prices are reasonable enough, for the amount of quality and quantity you get for each order. The food is made and prepared fresh so you can be sure of that the food that comes to you is safe and delicious. Choosing Cane's to cater your next party is a great choice. 
 Visit this link for more details
https://www.raisingcanes.com/restaurant-locations