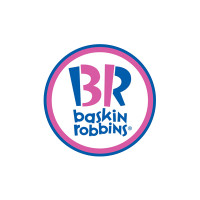 Baskin Robbins is known for their famous ice cream. They have 31 flavors so you can have a different flavor every day of the month. Burt Baskin and Irv Robbins established Baskin Robbins in 1945. They merged their two ice cream businesses in order to start Baskin Robbins.
They achieved high standards in each store by having a manager who had an ownership interest in the operation. This business model allows continuous innovation by creating a strong presence in the local communities.
Baskin Robbins now has around 5,800 stores in over 30 countries. People of different ages have enjoyed the pleasure of getting a Baskin Robbins ice cream and sharing it with family and friends. Get Baskin Robbins to cater at your kid's birthdays, baby showers, corporate events, office parties, open houses, picnics, promotions, school functions, and staff meetings. Bring the signature Baskin Robbins ice cream with well-loved toppings to any event.
Baskin Robbins Catering Menu
| Item | Price |
| --- | --- |
| Full Service | |
| 100 Persons or less (6 flavors) | $450.00 |
| Next 101-300 persons (8 flavors) | $4.25/person |
| Next 301-500 persons (10 flavors) | $4.00/person |
| Next 501 and Up (10 flavors) | $3.75/person |
| Trip Charge (up to 40 miles) | $40.00 |
| Trip Charge (40 miles and up) | $1.00/mile |
| Drop Off Only | |
| Parties of 40 persons | $200.00 |
| Parties of 60 persons | $285.00 |
| Parties of 80 Persons | $360.00 |
| Parties of 100 Persons | $425.00 |
| Delivery Charge (up to 10 miles) | $25.00 |
| Delivery Charge (10 miles and up) | $1.00/mile |
Pros of Baskin Robbins catering
A full service Baskin Robbins catering for an event allows you and your guests to enjoy your day without having to worry about serving the ice cream.
Baskin Robbins makes sure they send in enough staff for the size of your function. You get the ice cream in cups and the signature pink spoons, with the classic final touches; whipped cream, nuts and maraschino cherries.
An option for guests includes getting one scoop or two scoops of ice cream, a full sundae bar or an improvised banana royale, banana splits and brownie sundae.
How to order from Baskin Robbins catering
With Baskin Robbins having a franchise business model, their branches have individual operations. With 5,800 stores in total, there will be a Baskin Robbins near you.
To get Baskin Robbins to your event, go to their website. Then click on their catering tab. Input your information and choose what to order. Then, wait for the confirmation of the branch.
Their services include a full catering or a drop off only. For full services, Baskin Robbins staff will serve the pre scooped ice cream at the venue. There is an on-site server option with an additional fee.
There is also an option of getting the ice cream in waffle cones and waffle bowls, there is a minimum order for this.
A single scoop ice cream would cost around $5 to $10, while a double scoop ice cream would cost around $6 to $12 and a waffle cone and bowl with a full sundae bar costs around $10 to $15.
Baskin Robbins Catering Reviews
Estimated cost for an event with 50 people costs around $600 to $700 with a single scoop or two scoop option and a choice of 2 toppings among the following choices; hot fudge, caramel, strawberry, pineapple or marshmallow.
A combination of single scoop, double scoop, and full sundae bar ice cream service of 100 people costs around $900 to $1100. For an event with 200 people and a service staff for the day would cost around $2000.
The flavors are subject to availability. The most popular ones are vanilla, chocolate, strawberry, chocolate chip, pralines' n cream, jamoca almond fudge, rocky road, pistachio almond and many more.
The pricing for Baskin Robbins catering is indeed very reasonable given the value of the service they provide and the quality of the ice cream delivered.
Baskin Robbins catering can provide you with their signature ice cream flavors on your next event. Call the nearest branch to reach their catering personnel.
 Visit this link for more details
https://www.baskinrobbins.com/